Civilian Swimming School
U Plovárny 8, Lower Side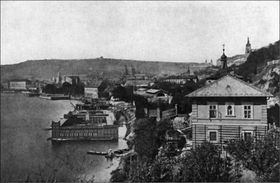 Prague Civilian Swimming School around 1870Prague Civilian Swimming School, also called Community Swimming School was built in 1840 in a classicistic style. It was a swimming facility serving both swimmers and non-swimmers. Every spring convicts constructed the wooden platforms for the bathers and after each swimming season they took them apart again. There was also a restaurant for refreshments and regularly concerts were given for the bathing guests. In a Prague rent by national division, the School was counted as a German facility although Czechs frequented it too. The Swimming School lay in view of the apartment of Kafka's parents, the house "Of the Ship" in the Nicholas Street, only a few steps removed from the Svatopluk Čech Bridge.
Together with his father, Kafka had already gone swimming there. On the eve of his death Kafka, bound to his bed by illness, remembered the beer he had drunk with his father "in the Civilian Swimming School" in a letter to his parents: "By the way, when I often think back now during the present bouts of high temperatures: we used to be regular beer drinkers together, many years ago when Father took me along to the Civilian Swimming School."
The building of this School is still preserved today and serves as a restaurant. The wooden platforms leading down to the river no longer exist.