The New Jewish Cemetery
Nad vodovodem 1 Street, Strašnice
Franz Kafka, mortally ill with tuberculosis, could communicate only by means of notes written on slips of paper as he waited for death in Kierling near Klosterneuburg. On one of theses scraps was written: "Kill me or else you are a murderer." During the morning of June 3, 1924, Kafka died.
His body was turned over to the City Funeral Services of Community of Vienna and transferred to Prague. His burial took place on June 11, 1924, at about four in the afternoon, in dull gray weather at the New Jewish Cemetery in Prague – Strašnice. His family, friends and acquaintances, the lost love of his life, Dora Diamant, in addition to a community of mourners made u of Czech, German and Jewish admirers of the writer followed the casket.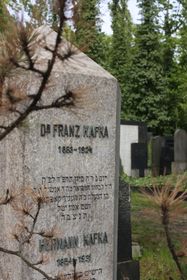 The New Jewish Cemetery laid out in the late 19th century and originally designed for 100,000 gravesites, was one of the biggest cemeteries in Prague. There is a Ceremonial Hall in the neo-renaissance style with a prayer chamber and the administrative building at the entrance. Many important architects, such as Antonín Balšánek, Jan Kotěra, Josef Fanta, Čeněk Vosmík, and Josef Zasche designed many of the tombstones. There are the graves of many great personalities: the writer Ota Pavel, the painter Max Horb, the poet Jiří Orten.
Kafka's grave is located about 200 meters to the right of the entrance. His parents have also been interred here. The cubist gravestone is designed by architect Leopold Ehrmann in the form of a hexagonal crystal cut off at the bottom, which carries a Hebraic inscription: "Dr. Franz Kafka, 1883-1924, Tuesday, at the beginning of the month Siwan 5684. The magnificent, unmarried man, cited above, our teacher and master Anschel, of blessed memory, is the son of the greatly revered R. Henoch Kafka, may his light shine. His mother's name is Jettl. May his soul be bound in the union of life!" The memorial tablet set up against the stone commemorates the fate of Kafka's sisters, all of whom perished in concentration camps. Opposite the gravesite, there is a memorial plaque to Max Brod set into the cemetery wall by the Jewish Cultural Community in Prague – honoring the "Writer and thinker, pioneer of Czech culture abroad, friend of Franz Kafka and editor of his works."