Mechanic pencil Versatil
(1946)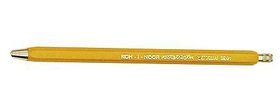 Mechanic pencil Versatil The company KOH-I-NOOR Hardtmuth was founded by Josef Hardtmuth in 1790 in Vienna; however, the production of graphite leads was relocated to České Budějovice in 1848. In the course of time, the KOH-I-NOOR pencils managed to achieve great success at a number of world exhibitions. The products were awarded in many world exhibitions, to name a few, 1855 in New York, 1856, 1900 and 1925 in Paris, 1862 in London, 1882 in Vienna and 1905 in Milan.
In Paris, the Hardtmuth's displayed their superior pencils rebranded as "Koh-I-Noor Hardtmuth". The new product which soon became a runaway success set the standard by which all other pencils were made, and graded. Each pencil was encased in a yellow cedar-wood barrel. The inspiration for the name was the famous Koh-i-Noor (meaning "Mountain of Light") diamond, part of the Crown Jewels of the United Kingdom and the largest diamond in the world at the time.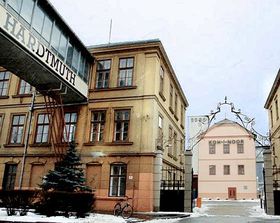 Koh-i-noor Hardtmuth in České Budějovice In 1910 KOH-I-NOOR Hardtmuth was of one of the greatest pencil plants in the world, with 8 establishments and 34 commerce representations. In 1945 the company was nationalized and one year later was introduced a new type of mechanic pencil Versatil.
The company once again become privately held in 1992.