Leopold Sviták
(1856-1931)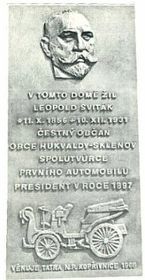 Leopold Sviták was born on october 11, 1856. He constructed in years 1897 - 1898 the first Austro-Hungarian petrol-engined automobile NW Präsident. The Präsident was manufactured in Nesselsdorfer Wagenbau-Fabriks-Gesellschaft A.G. (NW, now known as Tatra). The automobile was more of a carriage without horses than a car in modern sense. The car is steered via handlebars (while most of the cars of the era had a clique). The wooden bodywork is placed on an iron frame. It has four seats and a convertible top that would cover only the rear seats. Both axles have suspension of semi-elliptical leaf springs. The wheels were similar to the ones of a horse carriage, but had a rubber tyres. The car had a two cylinder spark ignition Benz engine placed by the rear axle. It was able to reach up to 30 km/h (19 mph).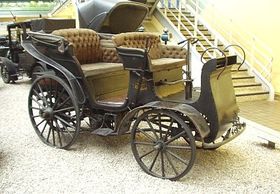 NW Präsident Immediately the first automobile was finished, it drove from Kopřivnice to Vienna to take part in an Auto show. It took 14.5 hours to travel the distance of 328 kilometres (204 mi) - the average travel speed was 22.6 km/h (14 mph) and there were no significant defects during the first drive.
Leopold Sviták on od december 10, 1931.