Karel Klíč
(1841-1926)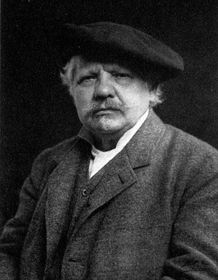 Karel Klíč The Czech painter and inventor Karel Václav Klíč lived most of his life outside his home country. He invented the revolutionary method of photogravure reproduction. The inventions of this Czech inventor led directly to the rise of the picture magazine.
Karel Klíč was born on 30 May 1841 in Hostinné, a little town at the foot of the Krkonše Mountains with a 170-year tradition of paper manufacturing. He was born in a house belonging to the Labský Mlýn paper mill, which was managed by his father. In 1849 Karel's father became director of the Císařský mlýn paper mill in Prague. Karel's father tried starting his own business, producing drawing ink and artist's paints, selling them along with fine paper and other art supplies. Financial difficulties led to his eldest son Karel's having to leave after the third year of secondary school in Prague's Old Town to help his father make paint. For a time he was sent back to Hostinné, to his uncle's family. It was he who recognized Karel's artistic talent and saved him from the merchant's career his father had planned for him.
He studied at the Fine Art Academy in Prague. At that time the Habsburg monarchy's Minister of the Interior was Alexander Bach. As a young caricaturist Klíč depicted Bach's new bureaucratic apparatus as a row of zeros, causing a nationwide stir and amount into vouchers for coffee and making a lasting impression on the national consciousness. He became involved in protests against the oppression of the Czechs, and was forced to leave Prague for a time. He eventually returned to the academy. There he studied with Jakub Husník, the future inventor of heliotype.
At the beginning of the 1860s Karel Klíč tried to make a living as a lithographer. From 1863 he owned his own lithography shop in Prague. At the end of the following year he moved away from Prague with his whole family to avoid the fierce competition, and with his father founded the Rafael photography studio in Brno.
In 1866 Karel himself left the photography business to the family. He preferred to draw caricatures. His own bi-weekly Veselé listy (Funny Papers) was soon shut down, but Klíč managed to draw some attention to himself. He landed a good job in Budapest, and soon found even better work drawing satirical cartoons in Vienna. He got married there in May 1870, and founded another magazine called Humoristische Blätter. In that day printing was still done by means of wood engraving, and photographic transfer of drawings to zinc plates was in its infancy. Karel Klíč began to investigate how to improve the production of printing blocks.
On 31 October 1875, along with his schoolmate Jakub Husník, he submitted a patent for making plates for printing uncounterfeitable paper. Both partners brought to the project the knowledge of printing techniques they had learned at the academy in Prague. Putting the picture onto paper was an exacting technique requiring the hand of a master. Klíč covered a copper plate with asphalt dust, which after heating formed an even, finely granulated layer. Onto it he placed a picture copied into gelatine, and over the gelatine and asphalt layer he etched it into the copper. Unfortunately, one clever observer quickly mastered Klíč's technique, and the inventor resolved to be more careful in future. From then on, Klíč's work would remain hidden behind a veil of secrecy.
In the 1890s Klíč worked out and tested ways to improve and simplify the transfer of half-tones. His goal was to reproduce complex pictures, not a simple pattern. In Great Britain in 1890 he finally achieved the desired effect, using wiper-blade photogravure, a printing method that remains unsurpassed to this day.
Klíč was too much the artist to immediately take up the idea of mass production. Even though on 1 October 1893, at the Storey Company in Lancaster, England he built the first photogravure rotary press and received many offers for the invention, he turned them down, satisfied to go into partnership with his employers. For the sake of secrecy at the shop, codes were used for the individual phases of the production procedure.
The fifty-six-year-old Klíč left Lancaster and returned to Vienna in 1897. He returned with the best of memories. He had become a favourite partner among the British; the workers admired him because they felt he was on their side. He had grown to love the country side around Lancaster, where he used to ride his tricycle. He was also respected as an artist in conservativr England. Period photographs show him there working mainly on portraits. Even during his long final years in Vienna, financially secure, he continued to paint.