Old Town Square and The Old Town Hall with the Astronomical Clock (horologe)
Old Town Square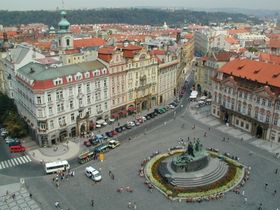 Dating from the 12th century, the square has witnessed many significant events. Beside the Old Town Hall and the Church of Our Lady before Tyn, the square has several other dominants - the baroque St. Nicholas church (K. I. Dienzenhofer, 1732 - 1735), the rococo Kinsky palace housing the National Gallery graphic collection, the Stone Bell house - a gothic palace from the 14th century, now the Municipal Gallery concert and exhibition rooms, as well as the Master Jan Hus Memorial sculptured by Ladislav Saloun (1915). The square witnessed the execution of 27 Czech noblemen on 21 June, 1621 - in memory of that event, 27 crosses are marked in the pavement. The Prague meridian can be seen not far from there.
The Old Town Hall with the Astronomical Clock (horologe)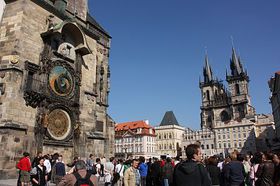 The Town Hall was founded in 1338. In 1364, the tower was joined to a chapel and in 1470, the Town Hall was rebuilt in the Gothic style. The clock dates from the beginning of the 15th century; on the hour, a procession of the Twelve Apostles appears the window in the upper part. In the lower part, there are 12 medallions with the signs of the zodiac, created by Josef Mánes (1865). The eastern wing of the Town Hall was destroyed on May 8, 1945, and has not been rebuilt yet.
Click on the image with the left mouse button, hold down and drag in the direction you would like to explore. You can zoom in and out the image with the "+" and "-" buttons located below the image: just click on the button and then on a spot in the image you want to see in more detail.
This content requires
Adobe Flash Player
and a browser with JavaScript enabled.
Built on
Flash Panorama Player
.
(c)virtual-zoom s.r.o.
Other Virtual Tours
Karlovy Vary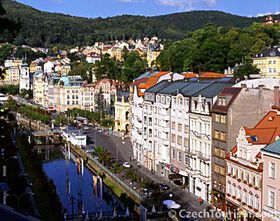 Karlovy Vary, the most famous and biggest spa in the Czech Republic, founded around 1350 by the Holy Roman Emperor and Czech king Charles IV.
Kroměříž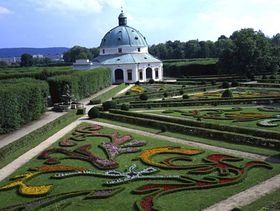 Kroměříž is among the treasures of the Czech Republic. At the end of 1998 the local gardens and chateau were entered in the UNESCO list of world cultural and natural heritage sites.