On September 28 in the year 935 A.D. (some sources say earlier, in 929), Czech Prince Wenceslas of the Přemyslid dynasty, was murdered in the town of Staré Boleslav, the victim of a plot orchestrated by his treacherous brother Boleslav in a ruthless bid for power. Even entire families of Wenceslas's supporters - even innocents – were murdered.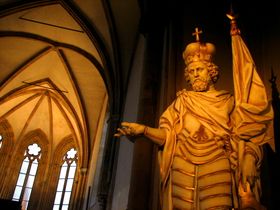 At the same time, it was Boleslav himself who, in 938, had his brother's remains transported to Prague, and it was he who pushed for his brother's canonization as a saint. In this way, Boleslav played a key role in what was to become a long and unique tradition in the Czech lands. The cult of St. Wenceslas began to spread at the end of the 10th century: at first, as a saint he represented and was protector of the royal Přemyslid line; later he became a patron saint. His portrait, together with the Přemyslid coat-of-arms and pennant, symbolized the country, while the name Václav (Wenceslas) became synonymous with Bohemia and the Czech crown.
Saint Wenceslas is one of the most celebrated of Czech saints: patron saint, martyr and a key personality, who played an important role in the emancipation of the Czech state and cementing the Přemyslid dynasty within the framework of Christian Europe.
Since the year 2000, September 28 has been a state holiday: the day of Czech Statehood.
Photo gallery
Saint Wenceslas pilgrimage and Pope Benedict XVI's visit
Part of the Wenceslas tradition is a pilgrimage conducted each year on September 28. Worshippers taking part visit two churches in Staré Boleslav: the basilica of St Wenceslas and the pilgrimage church Nanebevzetí Panny Marie. The main ceremony is a church service on Marienské Square, led by the archbishop of Prague.
You can find more information at:
This year's anniversary will be enriched by a visit by Pope Benedict XVI, who will visit the Czech Republic from September 26 – 28. The Holy Father will travel to Prague, Brno and Staré Boleslav. He will serve two large outdoor masses: one on September 27 in Brno, and one in Staré Boleslav on September 28, that is on the anniversary of St Wenceslas's death.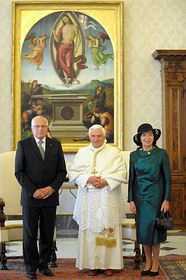 Audience of President Václav Klaus and his wife Livie with Pope Benedict XVI at the Vatican on May 30 2009. Photo: www.mzv.cz