L-410 Turbolet
The L-410 Turbolet is at present the most commonly used Czechoslovak-made transport plane. It is particularly popular in Africa and South America.
Tatra T-101
The only aircraft of this type produced achieved fame for an uninterrupted flight from Prague's Ruzyně Airport to Khartoum in Sudan in May 1938.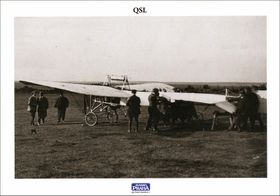 Photo: Josef Koblížek, archive of Pavel Kučera
JK-system Blériot
The JK-system Blériot plane on which Jan Kašpar undertook his first long-distance flight, from Pardubice to Prague, on 13 May 1911. More
Bohemia B-5
In 1919, the Bohemia B-5 became the first aircraft built in the newly established Czechoslovakia.
L-200 Morava
The L-200 Morava is a Czechoslovak touring plane used as an air taxi. It is one of the few Czechoslovak-produced aircraft to have crossed the Atlantic.
Letov Š-16
The Letov Š-16 military plane. In August 1927, Lt. Col. Jaroslav Skála and mechanic Matěj Taufer flew this aircraft from Prague to Tokyo in stages.
Sokol M-1C
František Mlejnecký and Jaroslav Saifrt traversed Africa in this Czechoslovak-made touring plane in 1947.
Aero Ae-45
The Aero Ae-45 at Prague's Ruzyně Airport. One of the most successful Czechoslovak planes of the turn of the 1940s and 1950s, it crossed the Sahara in 1950.
 

  Back