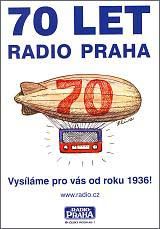 In 2001 we remembered the 65th anniversary of the launch of shortwave broadcasting in Czechoslovakia. Five years later we are celebrating another big anniversary, our 70th. We described in great depth the history of Czechoslovak and Czech international broadcasting in a text entitled "65 Years of Radio Prague". The following lines, therefore, are devoted to developments in the last five years, from 2001-2006.
In terms of programming Radio Prague has remained focused on informing the international public about news and events in the Czech Republic. The basic programming scheme for all six languages is a half-hour broadcast made up of news, a current affairs block featuring reports and interviews about the most important events and thematically focused features.
The main media on which programmes are broadcast are shortwave and the internet. Radio Prague uses a 100kW shortwave transmitter in Litomy¹l. Retransmission on shortwave transmitters in Russia (Krasnoyarsk, Novosibirsk), Ascension Island in the Gulf of Guinea and Sackville in Canada is used in order to improve reception in some target territories (Germany, Russia, Latin America, North America). Radio Prague also closely monitors developments in digital technology, above all DRM. The DRM system, unfortunately, has not reached the level of diffusion it would need in order to be used effectively.
Internet
Today the internet plays an indispensable role in the world of the media. On the website www.radio.cz users can find both sound and text versions of broadcasts, as well as a lot of useful information about the Czech Republic, projects concentrating on a wide variety of events, anniversaries and competitions. One of the most visited projects is a virtual tour of Prague.

This graph gives a clear picture of the growth in number of visits to the Radio Prague website: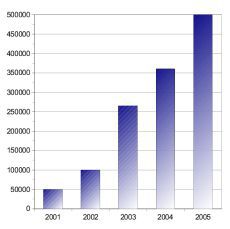 As well as its own site Radio Prague also runs a special Romany site www.romove.cz and, from 2004, a site for Czechs abroad www.krajane.net.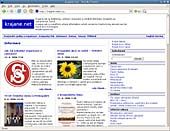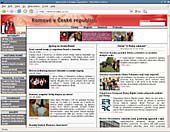 Broadcasts in the Czech Republic
From the second half of the 1990s Radio Prague's English programme was broadcast on the BBC's FM network in the Czech Republic. Unfortunately that contract was terminated in 2002, and Radio Prague began broadcasting in five languages on the FM network of Czech Radio 6. Those broadcasts continued for two years. In 2004 Czech Radio 6's schedule was reduced and Radio Prague found a slot on the Czech Radio regional station Regina Praha 92.6 FM in the capital. Broadcasts are only from Monday to Thursday and the programme is shortened to 15 minutes. In view of the number of foreigners living in Prague, Radio Prague has been making considerable efforts to expand such broadcasts.
In 2003 Radio Prague found a new partner for broadcasting in the Czech Republic - Radio France Internationale. Radio Prague's French Department produces a weekly "culture magazine" for RFI which is broadcast on RFI's 99.3 FM frequency in the Czech capital.


Satellite Broadcasts
Satellite broadcasting is a good complement to broadcasting on shortwave and the internet. At the present time Radio Prague's programmes are broadcast on the Czechlink system (Astra 3A) and World Radio Network (in Europe Eutelsat Hotbird 6, in North America Intelsat Americas 5). Satellite broadcasting is partly intended for direct to home listening, partly for the distribution of signals to other networks. It is possible to listen to Radio Prague - via WRN - on Sirius Satellite Radio in North America, on the WorldSpace Radio system in Africa and Asia, Sky Digital Radio in Europe, on the UPC cable network in some European countries and on FM on Canada's CBC radio network.
Rebroadcasting
Radio Prague continues to make more use of rebroadcasting, which involves partner radio stations around the world putting out our programmes, either in part or in whole. Such stations now number around 30.
Partner stations of Radio Prague
Radio BAHÍA CÁDIZ, Spain (from 2002)
Radio Universidad Tamaulipas, Mexico (2006) http://radiouni.uat.edu.mx
Radio PUEBLA, Mexico (2006)
Radio EL VERBO, Chile (2006)
RADIO CULTURAL OROPESA , Peru (2006)
RADIO LA PRIMERÍSIMA, Panama (2005)
PANORAMA RADIO, Peru
RADIO CONEXION, Chile (2005)
RADIO MUNICIPAL DE PANAO, Peru (2005)
RADIO CULTURA, Mexico (2005)
Radio POLITÉCNICO GRANCOLOMBIANO, Columbia (2006)
REDHORIZONTE RADIO, Bolivia (2006)
RADIO NOTICIAS AERO, Argentina (2006)
RADIO WBQ 1140 AM, USA (2004)
TOK-RADIO 107.6 FM, Yekaterinburg, Russia http://www.gorodfm.ru/
Avtoradio Kisinev 103,2 FM, Moldavia http://www.avtoradio.ru/
Vostocnyj expreAutorem textu je øeditel Radia Prahas, Cheljabinsk, Russia
Radio Radonez 612AM, 846AM, Moscow, Russia http://www.tvspas.ru/radio/
Radio Majak 765AM, Odessa, Ukraine

Co-operation with stations for Czechs abroad
In recent years Radio Prague has focused on supporting radio stations for Czechs living abroad, around the world. This involves both supplying technical help and programming content. This graph reflects production of programmes for stations for Czechs abroad.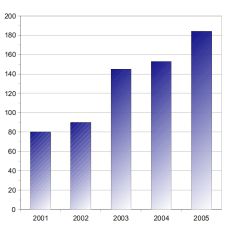 Radio Prague supports the following stations for Czechs abroad


RADIO DARUVAR, Croatia (from 1988)
SBS Radio Sydney-Melbourne, Australia (1992)
http://www9.sbs.com.au/radio/language.php?page=who&language=Czech
4EB Radio 98.1 FM Brisbane, Australia (1991) http://www.4eb.org.au/
Czechoslovak Club in South Australia, Adelaide (1991)
RADIO CMS Canberra, Australia (2005)
RADIO BELA CRKVA 102 FM, Serbia (2001)
RADIO SLONCE Bela Crkva, Serbia (2005)
RADIO TIMISOARA, Romania (1990)
RADIO RESITA 105.6 FM, Romania (2006)
Radio Zhitomir (A regional state TV and radio company in the Zhitomir region), Ukraine (2004)
WCEV Radio 1450 AM Chicago, USA (1991)
Colectividad Checa (Czech House) Buenos Aires, Argentina (2004) http://www.cesky-dum.com.ar/home.htm

International Co-operation

International co-productions are one of the most effective ways of producing and distributing programmes. They are not such a burden on budgets because a number of partners share in the production and they are often financed by grants. The resulting products reach a greater number of listeners, because co-produced programmes are broadcast by the partner stations. Radio Prague has rich experience in this field. Since the 1990s it has been contributing to the Radio E project, the target of which is to produce European themed programmes. The programmes are usually put together by RFI and Deutsche Welle and are produced in French, German and English. In 2002 Radio Prague was one of the founders of the English project Insight Central Europe (ICE). ICE has been produced in Prague since 2004, the same year its website was established: www.incentraleurope.com.
In 2005 ICE received a grant of over 20,000 euros from the Visegrad Fund. In 2006 Radio Prague and its partners were awarded an EU grant of over 30,000 euros for the production of programmes on the theme of health. The English programmes can be found at www.incentraleurope.com while German programmes are available at http://gesundineuropa.radio.cz.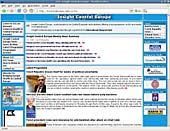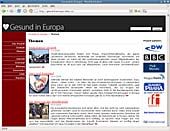 Listeners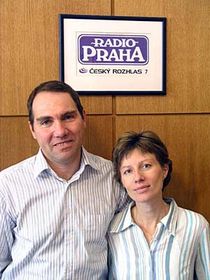 Jean-Paul and Agnes SimoniIn view of the huge competition from the whole spectrum of media, Radio Prague does not neglect to pay due attention to its valued listeners. Every year a new series of QSL cards is issued QSL cards, as are small souvenirs, such as diplomas, stickers, leaflets, etc. Almost every year a Radio Prague presentation, including a meeting with listeners, takes place at one of the many Czech Centres around the world. Since 2001 listeners' competitions have been held ever year, with the first prize a week's stay for two in the Czech Republic.
Radio Prague competition winners

2001  Juan Carlos Buscagila, Argentina
2002  Nikolai Loginov, Russia
2003  Christine Nuttall, Great Britain
2004  Helmut Matt, Germany
2005  Agnes Simoni, France (see photo)

It is a source of great pleasure us that the number of letters Radio Prague's receives continues to rise, as illustrated by this graph: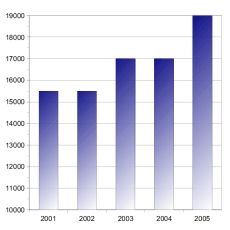 Events in the history of Radio Prague over the last five years
2001- first listeners' competition

2002- new design of the www.radio.cz website introduced end of Radio Prague broadcasts on BBC, transfer to Czech Radio 6
beginning of Insight Central Europe co-production

2003- March-June, Radio Prague introduces special shortwave broadcasts for Czech soldiers in Kuwait
Vaclav Havel's play Guardian Angel performed in English and German, nominated for the Prix Europa prize
website www.romove.cz launched in four languages
end of broadcasting on the Rimavsá Sobota shortwave transmitter in Slovakia
start of broadcasting on RFI 99.3 FM in Prague
Radio Prague is a partner of the expedition "In Czech footsteps at the Sources of the Amazon"

2004- Radio Prague becomes main producer of Insight Central Europe
Czechs overseas website www.krajane.net launched
end of broadcasting on Czech Radio 6, Radio Prague begins broadcasting in English on the station Regina Praha 92.6 FM
co-production of a programme about Jan Amos Komenský (Comenius) with Radio Netherlands
co-production of a programme on Romany literature with BBC 3

2005- new jingles based on Antonin Dvorak's New World Symphony introduced

2006- start of podcasting
Radio Prague Director
Miroslav Krupicka
 

  Back