The Easter table isn't given as much significance as that of Christmas, but there is still food, particulaily baked goods, prepared especially for this holiday as well. Just as fish, particularily carp, is associated with the Christmas feast, lamb and goat's meat, baked or fried, is associated with Easter. It was normally prepared with potatoes.
To this day, however, Easter just isn't Easter without mazanec (hot cross buns), which is the Easter equivalent to Christmas's vánočka. It's made from the same dough, but it has the shape of a bun, on the top of which a cross is carved before baking. Another traditional Easter bread is the Easter Ram, which is whipped dough poured into the shape of a sitting ram or lamb. After baking, the ram is given eyes - two cloves poked into the dough. Today, of course, chocolate eggs, chocolate bunnies and hard-boiled eggs have also become a part of Easter.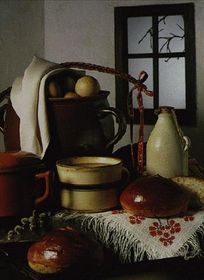 Photo: CzechTourism Even before the days of Christianity the symbol of the lamb was widespread in Mediterranean culture, with its long pastoral tradition. For Christian churches the lamb came to symbolize the Lamb of God - Jesus Christ. In the southern Czech Sumava Mountains there used to be a tradition that blessing a lamb would help wayfarers to find their way through the forests. These days lamb is rarely eaten in the Czech Republic, but this does not mean that lamb has disappeared completely from Czech Easter celebrations. It still appears in the form of a cake.
Judas bread was traditionally made with yeast dough and took the form of braided rope, symbolizing the rope on which Judas hanged himself after he had betrayed Christ. Baked Judas bread was eaten with honey, which traditionally was said to give protection against being stung by a bee or bitten by a snake.
Easter stuffing is a great Czech tradition, with many variations in different regions. It can be made with smoked meat, sometimes with pork and sometimes with veal. The stuffing also includes plenty of egg. As a spring dish it also needs something green - in the form of nettle, garden lovage (levisticus officinale), parsley or chive. The stuffing also includes breadcrumbs, milk and herbs. It is traditionally eaten on the evening of Easter Saturday.
 

  Back to the Homepage