Radio Prague Competition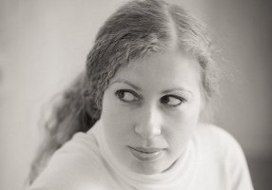 Photo: archive of Anna Kochergina The winner of Radio Prague's Competition is:
Anna Kochergina from Russia
The jury selected Anna Kochergina's entry to Radio Prague's Competition as the most original contribution received.
The winner will get a four-day stay in Prague for two at Savoy Hotel in the city center as well as paid return airline tickets for two.
Twelve others will get runner-up prizes. Congratulations to all!
Winning entry:
GOLDEN RADIO
«Radio Prague» – 2096
What will Radio Prague be reporting on in 80 years' time?
Forty years back, around 2150, scientists presented the world with insurmountable evidence that words as a source of information had lost all credibility. On the threshold of the 22nd century people used to non-verbal means of communication perceive words as no more than irritating noise. The spoken word is still used as a form of communication in households, but in other areas of human activity it is considered inefficient and costly.
This development has radically impacted the work of the media. Television stations have adopted the practice of showing footage without commentary, while newspapers and magazines who were considered doomed survived by undergoing a radical transformation. They offer readers photo reports with brief captions. The same can be said of the Internet. Radio stations are undergoing a critical period. Even the most popular stations are closing down, one after the other, because listeners find even music disruptive. Radio Prague, which came up with an unexpected and original solution, is the only station which survived. After many years of research Radio Prague's management arrived at the conclusion that the only way to deliver a broad spectrum of emotions without overburdening listeners senses is through silence.
"So what's Radio Prague keeping silent about today?" One neighbor asks another who has just tuned in.
"It's angry silence this time. They are reporting on another air tax increase."
"Again?! They must be crazy! Here, let me have a listen."
Two elegantly dressed ladies are debating a live report from The Hermitage: an hour of heavenly silence. Only silence can convey the full range of emotions brought into play by the collection of world masterpieces.
Regardless of biting remarks about the volatile character of this success, Radio Prague continues to explore new horizons. It has even enriched it program with ballet performances. Listeners can now identify Swan Lake or Giselle by the light tapping of ballet slippers.
In the year 2096 Radio Prague was awarded the Golden Radio Prize, inspired by the saying Silence is Golden. "The ability to change without betraying ourselves or our principles - that is the secret to our success," the head of Radio Prague told reporters. "Similarly as we did 80 years ago, we are reporting on what interests our listeners today and we will continue to do so in the future – we are merely looking for new ways in which to reach their hearts. And we are discovering them. Our motto is "keep silent about information, but do not withhold it."
Radio Prague has found a way to deliver even the most passionate speech in all its glory – by putting it across in a new format – a minute of glorious silence.
P.S. If I were to be consistent, it would have been better suited to send an empty page as my competition entry, but I fear I am not as yet expedient in the art of silent transmission. I shall work to perfect myself – after all I have another 80 years in which to do it.
Finalists:
Thorsten Driller, Germany
German Hasreiter, Brasil
Fernando Irrazabal, Uruguay
A. Buchrjakova, Russia
Elena Tumanova, Russia
Sifia Rizatdinova, Russia
Juan Carlos Gil Mongie, Spain
Hervé Brien, France
Thomas Bégué, France
Brandon Case, USA
Paul Bernstein, USA
Nargiza Alikulova, Uzbekistan