loading player .....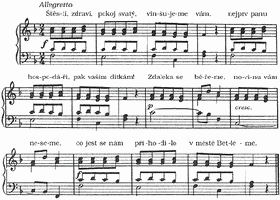 Štestí, zdraví, pokoj svatý
vinšujeme vám,
nejprv panu hospodáři,
pak vašim dítkám!
Zdaleka se béřeme,
novinu vám neseme,
co jest se nám přihodilo
v městě Betlémě.

Narodil se tam synáček,
posílá mě k vám,
byste mu koledy dali,
však já mu ji dám.
Chlebíčka nechce bráti,
nakrmila ho máti,
radš tolárek neb dukátek
máte poslati.
Pěkně prosím, odbuďte mě,
nemám tu kdy stát,
ještě musím do Betléma
dítko kolíbat.
Dítko to je bohatý,
v nebi vám to zaplatí,
že se budete po smrti
s ním radovati.
 

  Back