Enter the gallery by click on the numbers (letters)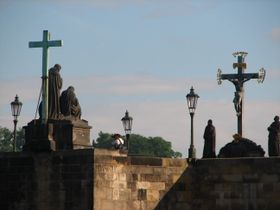 There are 30, predominantly Baroque, statues and groups of statues on Charles Bridge. Most of them were created at the turn of the 17th and 18th centuries. Today the statues are gradually being replaced by copies for reasons of preservation.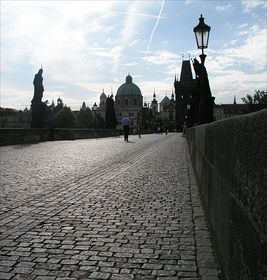 Most of the statues were created on the orders of important Prague institutions, monasteries and private persons. The sculptors whose work has adorned Charles Bridge include M.B.Braun, F.M.Brokoff, M.V.Jackel, J.O.Mayer, Jeroným Kohl, František Preiss and M.B.Mandl.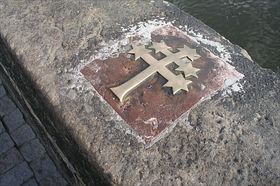 The oldest statue is that of Saint John of Nepomuk, who became a martyr when King Wenceslas IV had him thrown off the bridge into the Vltava in 1393. The statue, by Jan Brokoff, was completed in 1683. The actual spot from which the saint was hurled riverwards is today marked by a brass archbishop's cross on the wall of the bridge. It is said that if you place your hand there in such a way as to reach one of the stars your wish will come true.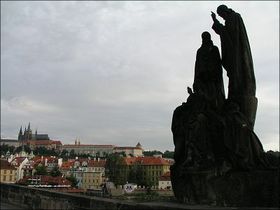 An original 1711 statue of Saint Ignatius by F.M. Brokoff fell into the river during the floods of 1890. Its former location is today occupied by the youngest of the Charles Bridge's statues, SS Cyril and Methodius by Karel Dvořák, completed in 1938.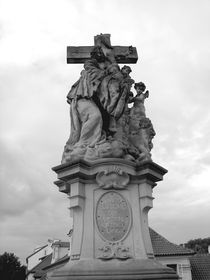 The most valuable statue on the bridge is probably that of Saint Luitgard by Braun. The sculptor was just 26 in 1710 when he completed this work, which depicts the blind saint kissing the wounds of Jesus.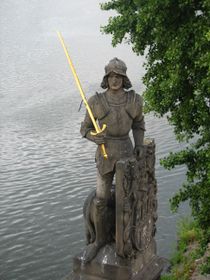 According to legend a chivalrous character named Bruncvík set out to find a live lion for his coat of arms. On his journey he found an invincible sword, which was later buried in Charles Bridge.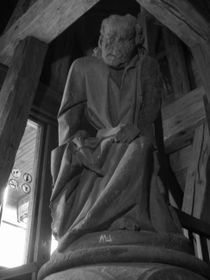 They say the sword will be unearthed in the Czech nation's greatest hour of need. The original statue of Bruncvík was damaged during the Thirty Years' War and is today in the collection of a museum. A copy was made by Ludvík Šimek in 1884.
One of Charles Bridge's lesser known statues is hidden at the top of the stairwell in the Old Town bridge tower. It depicts a jailer and is believed to be from the turn of the 15th century.