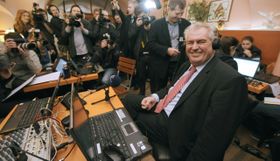 Miloš Zeman, photo: ČTK After a strong campaign finish, Foreign Minister Karel Schwarzenberg took 23.4 percent of the vote in the Czech presidential election's first round on Friday and Saturday, less than one percent behind the frontrunner, Miloš Zeman. Mr Schwarzenberg surpassed Jan Fischer, who polls predicted would reach the run-off. But he only gathered some 16.3 percent to came in third. The turnout at the polls reached 61.3 percent.
Mr Zeman, who served as a Social Democrat prime minister between 1998 and 2002, had been favoured by the polls to win the first round. Detailed voting results show he did best in eastern regions of the Czech Republic and in the countryside. Meanwhile, Karel Schwarzenberg won in Prague and other big cities and five Bohemian regions.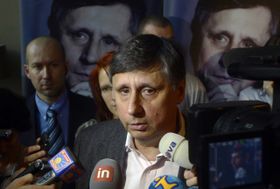 Jan Fischer, photo: ČTK Jan Fischer, whose support declined following a series unconvincing debate appearances, said people decided to support party candidates rather than independents. "I still believe the Czech Republic needs change. I was running to give people hope that they can have decent lives," Mr Fischer said, and refused to take any questions from the media.
Social Democrat candidate Jiří Dienstbier finished fourth, followed by composer and drama professor Vladimír Franz who took less than 7 percent of the vote. Mr Franz's bid made international headlines because of the tattoo art covering his entire body.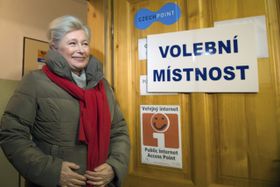 Zuzana Roithová, photo: ČTK Christian Democrat MEP Zuzana Roithová just garnered below 5 percent to finish 6th, followed by independent Taťana Fischerová, Civic Democrat Přemysl Sobotka, and Jana Bobošíková of the populist Sovereignty party.
Prime Minister and Civic Democrat leader Petr Nečas, who appeared at a news conference alongside his party's candidate, said the result of the first round was disappointing, adding that Mr Sobotka was hurt by the media which backed the charming foreign minister. Meanwhile, the Civic Democrat candidate himself asked his supporters to vote for Mr Schwarzenberg in the second round, as did Zuzana Roithová.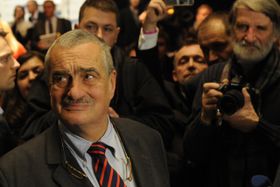 Karel Schwarzenberg, photo: ČTK The two frontrunners, Miloš Zeman and Karel Schwarzenberg, quickly exchanged barbs on Saturday afternoon. With some 90 percent of the votes counted, Mr Schwarzenberg, who is 75, appeared in front of his campaign team and a crowd of supported at a Prague theatre, calling his rival "a man of the past". Mr Zeman returned the punch shortly afterwards noting the foreign minister supported some controversial moves by the government in which he serves as deputy prime minister.
Most commentators expect a tight race between Mr Zeman and Mr Schwarzenberg in the runoff. While Miloš Zeman might win over additional votes by emphasizing his rivals role in some of the government's unpopular policies, Karel Schwarzenberg could try to convince voters his opponent's past disqualifies him for the post. Much will also depend on whether those who voted for Jan Fischer and Jiří Dientsbier will come to the polls in the second round, and whom they will support there.