Help flood victims with Radio Prague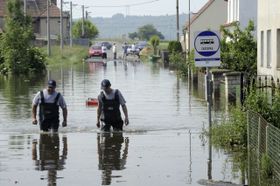 Nové Kopisty, photo: CTK The Czech Republic is tackling the aftermaths of the 2013 devastating floods. The damage is expected to reach billions of crowns and thousands of flood victims are struggling to get their lives back together.
The Czech Radio Foundation has set up a special bank account, entitled Help with Us, where members of the public can contribute to those hardest hit by the floods. The number of the Czech bank account, which is up and running, is 888 444 666/0300. You can donate money from Czech accounts up until June 21st.
You can also donate via SMS messages sent from Czech mobile phones. The message DMS ROZHLAS should be sent to the phone number 87777. One DMS will cost you 30 crowns of which 27 goes in aid of flood victims, and the remaining 3 to the service operator.
Related articles: