Czechs impress in victory over favourites Spain at tennis World Team Cup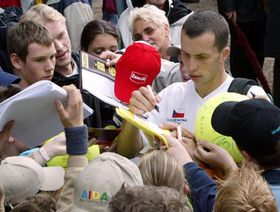 Radek Stepanek The Czech Republic have beaten favourites Spain at tennis's World Team Cup in Dusseldorf. On Tuesday Radek Stepanek was beaten 6-4 6-4 by Alex Corretja but Jiri Novak kept the Czechs in it with a surprise 4-6 7-6 6-2 win over world number four Carlos Moya. In Wednesday's doubles decider, Stepanek and Novak swept the Spaniards aside 6-3 6-4. Stepanek had this to say after the Czech duo's victory.
"Moya doesn't play doubles very often. They are clay court specialists and great players but we knew that we're a good doubles team. It was hard because they kept us on the base-line and kept the pressure on us but we played well - we did well at the net and combined well and won in the end."
The 2:1 win over Spain followed an earlier victory over Australia and leaves the Czech Republic in pole position to advance from their group. Their next game is against the USA and coach Jan Kukal is optimistic.
"Stepanek will play Todd Martin who unexpectedly beat Corretja, so we're all looking forward to it very much. We're having a good week, everything is going well and I think things could turn out well for us."
Czech Tennis Union standing by drug-ban Ulihrach
The Czech Tennis Union is standing by player Bohdan Ulihrach, who has been banned from the game for two years for taking the banned drug nandrolone. The Czech body will not punish Ulihrach, claiming the ATP never proved the doping offence.
Cipro to manage newly promoted Viktorie Pilzen
Frantisek Cipro has been appointed manager of Viktorie Pilzen football club, who have just been promoted after a two-year absence from the premier division. Cipro, best known perhaps for his association with Slavia Prague, was sacked by Teplice last September after a disastrous start to the season.
Duda leaves champions Slavia for Russia's Kazan
Slavia Prague bad boy Radek Duda has just signed with Russian ice hockey club Kazan. The Russians had reportedly been watching the forward for some time and made the final decision to sign him after he impressed at the World Championships. Meanwhile, Duda's friend and fellow Czech international Jiri Hudler is set to leave Kazan for the NHL's Detroit Red Wings.