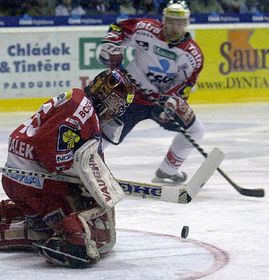 Pardubice-Slavia, photo: CTK The first two games of the hockey playoffs took place over the weekend between Pardubice and Slavia Prague. Pardubice won the first game 1 - nil with a loan goal by Petr Mudroch in the 11th minute of the first period. Both goalies, Pardubice's Adam Svoboda and Slavia's Roman Malik had solid games. The second game of the series proved to be much more exiting. In the dying minutes Slavia managed to hold off a desperate Pardubice team to win the game 4-2. Emotions were running high with a small number of Slavia fan's making the trip to Pardubice chanting slogans such as 'you don't have a metro' and others I probably shouldn't mention. The series is now tied at one a piece and the action continues on Tuesday night in Prague.
To the NHL and Milan Hejduk of the Colorado Avalanche scored his 50th goal in the final game of the season over the weekend to become the number one goal scorer in the NHL and win the Rocket Richard Trophy. Hejduk was also the Czech Republic's number one point producer in the league, ending the season with 98 points. Jaromir Jagr finished in 19th place with 77 points. Zlin's Roman Cechmanek ended the season second in terms of goals against average with 1.83, having his best season yet. The NHL playoffs are to set to commence on Wednesday.
And as the NHL season comes to an end a list of possible players for the up coming Hockey World Championships is becoming known. The lead candidate for goaltender from the NHL is Tomas Vokoun. Roman Turek told the coach of the team, Slavomir Lener, that he does not wish to play for the Czech Republic because of the bad season he had as goalie with the Calgary Flames. Other possible players include Atlanta's Frantisek Kaberle, Pittsburgh's Martin Straka, and the New York Ranger's Petr Nedved.
In football action Sparta has secured their lead in the Gambrinus league with a 2-1 win in Blsany over the weekend. Slavia continue to pressure the league leaders, they hammered Ceske Budejovice 6-1 at home. Sparta has 51 points and Slavia is four points behind with 47. In other action, Liberec beat Jablonec 2-0, and Ostrava beat the struggling Bohemians 2-0.
Football coach Petr Nemec has resigned from the Polish first division team Widzew. Although Nemec took the coaching job at the start the season, he cited the great pressure he has been under since he began his job as the reason for his decision. The Polish side has struggled this season and faces possible relegation.