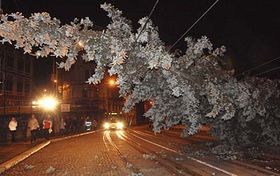 Photo: CTK On Wenceslas Square Thursday night, plastic bags danced in the air, and pedestrians shielded their eyes as strong gusts blew dirt and debris everywhere.
Elsewhere the storm was much worse than a mere annoyance. In the town of Vestec, two young men died instantly when a poplar tree fell on their automobile. In North Bohemia, a firefighter was killed by a falling log, just after he had cleared an overturned tree
Across the country, there were power outages and traffic accidents, a few of them them serious.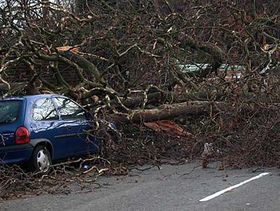 Photo: CTK Meteorologist Radim Tolas of the Czech Hydrometeorological Institute says it's not uncommon for there to be wind storms in January, but the strength of the gale is surprising.
"Each year we discover one or two storms in January, it's not unusual, but unusual was the wind speed which we measured in the stations. We measured the maximum in the mountains, especially in the Krkonose, Krusne Hory, Beskydy and Jeseniky Mountains, where the wind speed was over 40 even 60 metres per second, it means 200 kilometres per hour."
Emergency services were stretched to their limit, trying to cope with the wind's effects. Firefighters reported 3,400 incidents connected with the weather, the highest number since the 2002 flooding of the Vltava River. Around 23,000 calls to emergency helplines were also placed during the night.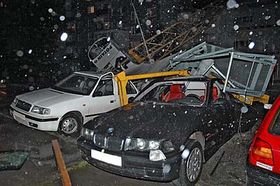 Photo: CTK Rail traffic was interrupted in a number of places, including along the line that connects Prague and Berlin, and the Ceske Budejovice - Vienna line. German national railways cancelled all train service for several hours, a measure Ceske Drahy, or Czech Railways, did not take.
The Czech national airline, CSA, cancelled about 20 flights.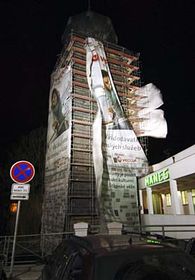 Photo: CTK By morning the winds had died down considerably, but Dr. Tolas warns that the storm is not over yet.
"We suppose that today and probably during the night and sometimes on Saturday we expect the wind speed to be quite high too but maximally to 30 metres per second."
Some newspapers have called the storm a hurricane, even giving it a name - Kyrill. Tolas says that's nonsense.
"It was the very quick moving of the cold atmospheric front together with the storm. It wasn't a hurricane. It was low pressure in the northern part of Europe, especially that low pressure was moving from the Atlantic through north Poland and it was only the low pressure, no hurricane."
Despite that cold front, the Czech Republic on Thursday experienced more record high temperatures, 14 degrees celsius in the Czech capital.