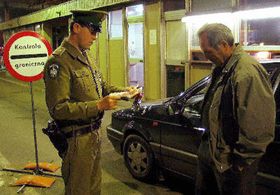 Photo: CTK "There is a great difference in the money we get in Poland and back home. In Ukraine we earn some 20 dollars per month, while here you can get up to 300 dollars - that IS a difference!"
Oksana is a 40-year old woman from the central region of Ukraine, one of a whole army of visitors from Ukraine and Belarus who find work in Poland mostly paid by the hour performing household chores or looking after children. Men focus primarily on the building construction sector - getting seasonal contracts or one-off jobs - all willing to work for the universal rate of 5 zlotys (roughly one dollar twenty five) per hour.
Looking from the Polish perspective, there are those who employ immigrants from the East as a cheaper substitute for domestic workforce. On the other hand there are those who view such illegal jobseekers as unwelcome competition ready to perform any labour at cut-rate pay. Ewa - a housewife in a wealthy Warsaw suburb says the introduction of visas is not bound to affect the grey areas of Poland's labour market.
"I think that visas are introduced mainly to protect the western European work market. If it was to protect the Polish work market they should have been introduced several years ago. Now our economy is so poor that we don't need more workers."
Grzegorz is the owner of a well-established company in the building materials area. He frequently encounters Ukrainians or Belarussians searching for jobs.
"In my opinion people who came here to work don't have proper qualifications. They can only do simple things, and there are so many of them in big cities in Poland. Their low pay is a result of competition. They have only occasional jobs. Poles want regular employment. Small companies look for immigrants, they are easy to fire when there is no money"
Some analysts claim the influx of illegal workforce from the former Soviet republics accounts for up to 20% of the labour market in Poland - exactly the equivalent of the unemployment rate here. Will the introduction of visas for Poland's eastern neighbours have any bearing on Poles' willingness to fill this demand gap?
Barbara, a schoolteacher, is doubtful: 2I don't think anything will change. Poles will still consider such jobs underpaid. If there are fewer Ukrainians or Belarussians they will ask for more money"