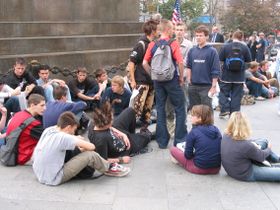 The programme wants to show that patriotism can be viewed as an interesting notion and not a sentiment celebrated only by the older generation; while ability to sing the Polish anthem, the knowledge of the country's history or the habit of putting out the national flag for national holidays can still be viewed as "cool". Such is the main message of billboards with the slogan "Patriotism of tomorrow is what connects us" which have appeared on the streets of many Polish cities. They present two people - one from the younger generation and one representing the older generation explaining why they feel patriotic and what it means to them. Among the faces that appear there are both historical figures like those fighting for Poland's independence during WWII and people like 19-year old Filip Wolski, winner of the world competition for young IT specialists, who promises that he will always work and live in Poland.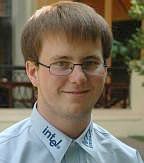 Filip Wolski "I think it's a decision of every person to go or not to go. But what we are dealing with sometimes is the thing that people consider Poland - there's just no point staying in Poland because you won't find a good job, you won't find good education etc., etc. I think many people need to see not maybe possibilities, not maybe jobs because jobs are here but actually realize that sometimes people say "I have to go, I have to leave Poland" and they can't explain why. It's just this thing that they are sure there is not point in staying here. Poland is a cool place to be? Sure."
Another participant of the action is 86-year-old major Janusz Brochwicz alias "Gryf". This Warsaw Rising survivor spent the last 58 years working and living in the UK. He came back to Poland in 2002 for one simple reason.
"Prospects are very good, industry is building up, there are better living conditions and it is going to be really on the same level with countries that have been freed since 1945."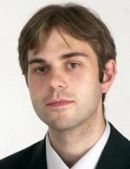 Marek Mutor The budget for the action amounts to 5 mln zloty while 150 000 was spent on billboards alone. Marek Mutor, the head of the National Center of Culture which helped organize the campaign explains.
"What is really important is that our program is really created by civic organisations. What we do is to support them by government money and by some organisation support. The aim of our action is also to show that patriotism connects generations. Old generation which sometimes had to risk their lives for Poland. And young generation which has to find some new ways of patriotic experience."
Mutor also expressed hope that a wider-scale public discussion will follow and more events spreading civic awareness will be taking place all over the country. There are funds available for initiatives and the deadline for civic organizations to submit their applications to the Ministry of Culture is April.