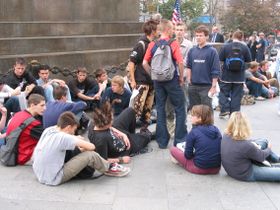 In just over six months' time, Czechs will become citizens of the European Union. To find out how the country's younger generation feel about joining the Union, I visited a bar close to Prague's Wenceslas Square, where I spoke to three young Czechs, Lenka, Martin and Jirka.
How do you think your life will change once the Czech Republic joins the EU?
Lenka: "I don't think in the beginning it will be a really big change, because we are not going to change our currency immediately. But it'll be quite nice that I will not need a passport. Also I hope the controls on the border won't be so strict."
Martin: "I personally don't feel it will change a lot. For example, many people fear that it's going to be more expensive, but I think - especially in Prague - we are already used to high prices, and I don't think they're going to increase a lot."
In general are you optimistic about the future of this country in the EU?
Martin: "Yes, I personally am very optimistic and I'm glad that we're going to join the EU. Because of the travelling...also I think the law here is going to be more like it is in the EU. Many things will improve."
Jirka: "Yes, it will be very good for us in the future, but maybe in the further future, maybe in ten years time it will be better. But next year, or in the next two years, there will be no change for us."
Lenka: "I am maybe a little sentimental. I like the Czech mentality; I think we have, I think, more respect for material things because we didn't have them before. It's stupid but I am against, because we will have a better economic situation here (laughs)."
Do you have any fears about joining the EU?
Martin: "I'm a little bit afraid of losing our national identity. We will still have our special Czech things but the identity will be swallowed a bit by the European...space, or European Union."
Would you like to work in the EU in the future?
Lenka: "I would like to have the possibility. I don't know now if I would work in the EU but I am happy about that, that there won't be a problem, not such a big barrier as we have now. I'm happy about the possibility"
Martin: "Yes, I'd be happy to be able also to study in one of the countries of the EU."
How much do you know about the EU? For example, do you know the difference between the European Commission and the European Parliament?
Lenka: "(laughs) No! I know only some things that are in the newspapers...we will have limited production of milk and eggs and whatever in agriculture, for example."
Martin: "I would like it if somebody told me practical things that I could use. If I want to study in Sweden what I have to do...not the political system, but what exactly I have to do if I want to go somewhere. That's important for me."