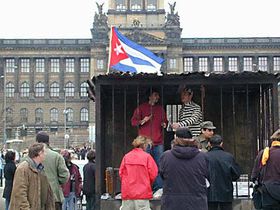 The symbolic jail cell on Wenceslas Square The voice of former Czech President Vaclav Havel, speaking in a recorded message to a crowd of people in front of a mock-up of a Cuban prison cell in the centre of Prague.
The cell was erected by the Czech humanitarian aid organisation People in Need, to mark the second anniversary of the imprisonment of 75 anti-Communist dissidents by the Castro regime.
Mr Havel told the crowd of his own experience of incarceration as a dissident in Communist Czechoslovakia, an experience which has clearly informed his views on Cuba. He said those who spent their summer holidays lying on Cuba's sandy beaches should remember the many dissidents locked up in Castro's so-called island of freedom.
As he spoke, a row of well-known personalities - politicians, actors, artists - sat inside the cell, serving a symbolic prison sentence as a tribute to the dissidents. It was a reflection of the strong feelings about Cuba among many people in the former Communist bloc. Matej Cerny, from People in Need.
"This somehow derives from the history, from our history. If you look 15 years back, you can see that we experienced something like that, something which was quite similar to the situation in Cuba."
That personal experience with totalitarian rule has put former Communist countries on a collision course with their new EU partners over Cuba. The Czech Republic protested strongly when Spain's socialist government suggested that the EU should no longer invite dissidents to embassy functions in Havana - a move introduced as a response to the mass arrest of dissidents two years ago. And as Matej Cerny told me, the Czechs were not alone in their protests. "Well we are not alone, luckily. The Polish are with us and the Slovaks are with us. We cannot say that the whole of the EU has a completely opposite policy, it's not true. But what can be said is that we are quite opposite to the policy of Spain's socialist government."
One of those who donned prison clothes and served his symbolic prison sentence was Jan Bubenik, a former student activist from 1989. He himself has first-hand experience of a real Cuban prison cell - in 2001 he and Czech MP Ivan Pilip were arrested in Havana after being caught carrying materials to anti-Communist dissidents.
"I think we have first hand experience of how any kind of totalitarian regime behaves towards people who have different ideas. This schizophrenic society forces you to say one thing in front of your colleagues at work and something else in the privacy of your own home with your friends. I remember how quickly you adjust to such a normal situation and how awkward it felt in the Cuban prison when they were trying to force me to agree with their truth."
Up until now the Czech government has remained firm in its support for Cuban dissidents. But the current political crisis is likely to result in a shift to the left in Czech foreign policy. Some are anxious that a changing of the guard at the Foreign Ministry will mean a realignment of the country's Cuba policy and the gradual erosion of support for Cuba's dissidents.