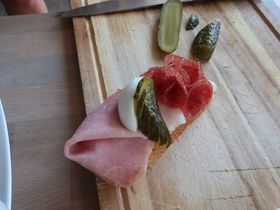 Chlebíček, photo: Czech Radio - Radio Prague The traditional Czech chlebíček is made of a thin slice of veka, a type of white long bread similar to the French baguette, covered with various spreads, from butter or mayonnaise to horseradish cream, and garnished with a mixture of toppings, including ham, cheese, salami, hard-boiled egg or pickled vegetables.
Although different varieties of open-faced sandwiches are made all around the world, especially in the central European region, their invention is credited to Jan Paukert, owner of a famous Prague delicatessen, which became a hub for high society in the 1920s and '30s. His customers included the first Czechoslovak president, Tomáš Garrigue Masaryk, and the world-famous opera singer Emmy Destin.
The legendary Paukert deli is no longer in existence, but you can buy chlebíčky prepared according to the original recipe in a new café, located in Prague's district of Karlín. Štěpánka Čermáková is its manager: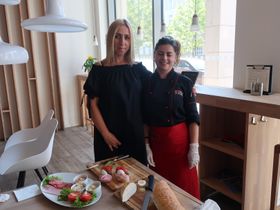 Štěpánka Čermáková (left), photo: Czech Radio - Radio Prague "Our deli wants to carry on with the tradition of the Paukert brand. It is owned by a team of foodies and financial sponsors, who want to keep the old brand alive but give it a new concept. We prepare chlebíčky according to the original recipe, for which we obtained a licence."
The original Paukert's sandwiches, which you can see in our video, are being prepared by Rita, who comes from Ukraine. She makes around fifty open sandwiches a day.
This summer, the sales of chlebíčky are slightly lower than usual due to the extremely hot weather. But the peak of the season is yet to come. Chlbíčeks are traditionally sold during autumn and winter months. Štěpánka Čermáková says the original Paukert's chlebíčky are selling best, but other varieties are also popular: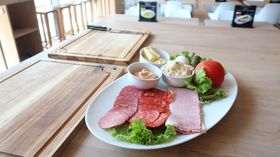 Photo: Czech Radio - Radio Prague "The original Paukert's chlebíčky are selling best. But people also like sandwiches with ham and egg, covered with mayonnaise and the salmon and roast beef ones.
"But we also make chlebíčeky with camembert or, if someone is into a heathy life style, we use rye bread instead of veka, although that's far from the Paukert tradition."
The original Paukert's chlebíček is covered with potato salad made with home-made mayonnaise and topped with Prague Ham, a slice of a hard-boiled egg, Emmental cheese, Hungarian salami and a slice of tomato.
But the beauty of obložené chlebíčky is the fact they come in countless varieties, depending on the creativity of their makers and the ingredients available.
The chlebíček also played a central role in a Second World War-era political scandal. In 1941, the Czechoslovak wartime Prime Minister Alois Eliáš invited a group of journalists sympathizing with the Nazis, who were writing propaganda articles. Eliáš bought sandwiches from a local deli and let his friend, a pharmacist, inject them with lethal doses of typhus and tuberculosis along with the meat-sausage infection known as botulotoxin. Most of the journalists suffered serious health problems and one of them, Karel Lažnovský, died as a result of the poisoning. General Eliáš was arrested by the Nazis for political murder and resistance and later executed.