Police called on to confiscate Bakala assets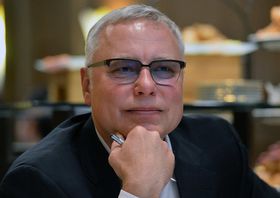 Zdeněk Bakala, photo: CTK A Slovak businessman has moved for the Czech police to confiscate all the assets of one of the country's richest businessman, Zdeněk Bakala. Head of the Arca Capital investment group, Pavol Krúpa, has filed a demand with the national police centre for combatting organised crime on the grounds that Bakala effectively tunnelled tens of billions of crowns out of the hard coal mining company OKD when he was the main shareholder. OKD is now under insolvency management. Bakala is the owner of the country's main business newspaper, Hospodářské Noviny, as well as other titles in the Economia group, as well as a host of other ventures.
Mountfield bought up by Hong Kong company
One of the Czech Republic's biggest DIY and garden equipment firms, Mountfield, has been sold to a Hong Kong based company. The purchase of the 56-strong network of stores is being made by Eurasia Development Group Limited. The Czech founder of Mountfield, Ivan Drbohlav, explained that he has been seeking a buyer for some time. He created the company in 1991. At one time Mountfield's launch on the Prague stock exchange was mulled.
Israeli company lands radar contract
An Israeli company has won a tender for the supply of mobile radars for the Czech military, Defence Minister Martin Stropnický informed on Wednesday. The eight radars, which should replace the outdated Soviet technology, are expected to cost 2.9 billion crowns. The Czech Army should receive them by the end of 2021. Another three companies from France, Britain and Sweden took part in the tender. The 3D radio-locators will be partly produced in the Czech Republic, the minister said.
Airbnb-style stays rise by 40 percent
The number of tourists staying in Airbnb-style private accommodation in the Czech Republic grew by 40 percent year on year to 2.2 million in the first nine months of this year, suggests research conducted for Czech Tourism. The state agency also said on Tuesday that the overall number of visitors had grown by 12.6 percent in the first three-quarters to reach 9.3 million. Hotels saw an upswing of 6.3 percent in overnight stays in the same period.
Czech banks weather stress tests
Stress tests on Czech banks show that the sector is sufficiently resilient to withstand unexpected shocks, the central bank said on Monday. The tests were based on banks' results to the end of the third quarter of this year. The Czech National Bank said the sector's capital adequacy was considerably higher than the 8 percent regulatory minimum, even in a stress scenario in which there was a marked downturn in the domestic and international economies.